Colombia Farc rebels launch website of the female rebel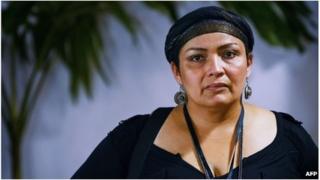 Colombia's main rebel group, the Farc, has launched a new website run by and dedicated to its female members.
Victoria Sandino, one of the left-wing rebels negotiators, said the site Farianas aimed to destroy "the myth that female members were victims" of their male counterparts.
It will also campaign for gender equality in Colombia, she said.
The ongoing peace talks between the Farc and the government in Havana, Cuba, were launched nearly a year ago.
The new website has posts mainly by women, who say they want to reveal their daily rebel routine, but it also includes some guest male writers.
The Farc commander Timoleon Jimenez called it a "beautiful adventure which deserves the support" of the Farc leadership.
"[The women] alone have enough merits to take up, present and defend this task on their own, without the need of appealing to male input. Nevertheless, they decided to very kindly invite me, as commander of the Farc to welcome all the readers," he wrote.
'Revolutionary women'
The website also offers downloads with recommended reading and biographies of famous female leaders such as Rosa Luxemburg and Angela Davis.
"We have decided to make our fight more visible, to reflect what we think and live. We aim to tell the small and big stories of our comrades in arms, as well as other revolutionary women," a statement read.
The left-wing rebels have been negotiating a peace agreement with the Colombian government since late 2012.
So far, there has been partial agreement at the Havana talks only on the land reform issue.
But there are another five points on the agenda:
Political participation
Disarmament
Illicit drugs
Rights of the victims
Peace deal implementation
Five decades of armed struggle in Colombia have killed 220,000 people, according to a study by Colombia's National Centre for Historical Memory.
Hundreds of thousands have been displaced by the violence.