Brazil police probe Sao Luis panic after prison riot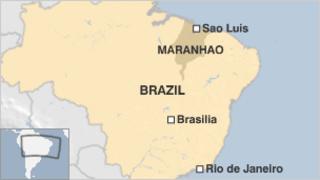 Police in Brazil are investigating the source of rumours that caused panic in the northern city of Sao Luis a day after a prison riot.
At least nine prisoners were killed and 20 injured in the Wednesday night riot at the Pedrinhas prison.
On Thursday, shops were closed and people rushed home as rumours spread that criminal gangs were about to carry out random revenge attacks in the city.
Brazilian prisons suffer from extreme overcrowding and riots are not unusual.
"Those who have helped to create a climate of fear in the city will be punished," said Maranhao state security secretary Aluisio Mendes.
The false information spread through social media, leading to panic in the state capital.
School classes were suspended and people ran for shelter.
"The rumours began in the city centre, were people were saying gangs were carrying out a massive attack and robbing people."
"What really happened was a row between street sellers over a pitch at a local market," said Mr Mendes.
'Digging tunnel'
On Wednesday night, seven buses had been set alight in Sao Luis, hours after the riot in Pedrinhas prison.
Police said those attacks were carried out by family and friends of the inmates, following orders that came from the jail.
The violence inside the jail began when rival gangs clashed as riot police entered the facility following a tip-off that the prisoners were digging a tunnel to be used in a mass escape.
"When the guards tried to access the cell in which the entrance to the tunnel was located, the prisoners tried to fight them off," said Mr Mendes.
Riot police said they found open cells, with broken locks, and prisoners holding firearms.
The authorities reported initially that 13 prisoners had been killed and 30 were wounded, but the figures were later revised down.
Pedrinhas prison is notorious for its gang warfare.
Earlier this month, three inmates were killed, one of them decapitated.
Another was electrocuted last month when he became entangled in cables used to light an escape tunnel.
Eighty-five inmates have escaped from the overcrowded prison this year.
Minister of Justice Jose Eduardo Cardozo said last year that Brazil had "a medieval prison system, which not only violates human rights [but] does not allow for the most important element of a penal sanction, which is social reintegration".
Officials say that despite building new prisons they have not been able to keep pace with the increasing number of detainees, making it hard for them to improve conditions within the jails.