Argentine leader Cristina Fernandez 'recovering well'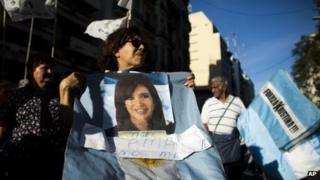 Argentine president Cristina Fernandez de Kirchner is "recovering well and without complications" from a surgery to remove a blood clot from her brain, her medical team have said.
Ms Fernandez underwent a two-hour long operation on Tuesday to have a blood drained from brain surface.
"She is in good spirits and will begin eating today," said presidential spokesman Alfredo Scoccimarro.
Ms Fernandez, 60, suffered a head injury two months ago.
But the blood clot was discovered only last weekend.
Doctors decided to carry out the surgery after she began to lose sensitivity in her left arm.
The emergency operation has forced Ms Fernandez to abandon the electoral campaign for the Argentine Congress on 27 October.
Her party is facing the prospect of losing control of Congress in the poll.
Dozens of her supporters have been outside the Favaloro Foundation Hospital in Buenos Aires.
They set up an improvised altar, adorned with images of Pope Francis, who was born in Argentina.
It is not clear when Ms Fernandez will be able to return to work.
Doctors had ordered her to rest for a month, but that was before the subdural haematoma was discovered and the decision to operate was taken.
Vice-President Amado Boudou, who is facing a corruption investigation, will be in charge while she recovers.
President Fernandez was first elected in 2007 and then returned to power by a comfortable majority in 2011.
Her health has been followed closely since the sudden death of her husband, former President Nestor Kirchner, from a heart attack in 2010.
She has been admitted to hospital on a number of occasions while serving as president. She has low blood pressure and had to have a thyroid gland removed in 2012.