Salvadorean police find stash of anti-tank grenades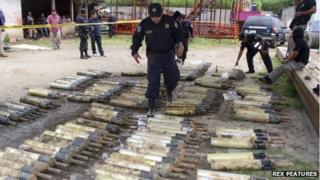 Police in El Salvador have found a stash of more than 200 anti-tank grenades hidden in a carpenter's workshop in a rural area.
Investigators said the arms were probably linked to Los Zetas, a Mexican drug cartel which has been expanding its operations to Central America.
They said the grenades were in a good state and had not been buried long.
Police said they had become suspicious two months ago after armed men had been seen near the property.
Suspicious activity
Locals said they had seen a group of heavily armed men arrive in three cars with Guatemalan number plates, forcing their way onto the property in El Congo, 50km (30miles) north of San Salvador.
They reported seeing the men digging up the ground, but said they fled after locals called the police.
Previous searches of the property turned up nothing. But on Tuesday, Salvadorean security forces came across the carefully buried stash.
Neighbours reported that the property had belonged to a "Guatemalan military man".
Los Zetas, Mexico's most violent drug trafficking gang, has long been known to recruit former members of the Guatemalan military.
It is not clear whether the grenades belonged to Los Zetas and had been stashed for safekeeping, or whether they had been stolen from Central American security forces for sale to the Zetas.
Prosecutors said they had asked for help from the US to determine where the grenades came from.
Los Zetas is Mexico's largest criminal organisation with ties to drug-trafficking networks in Colombia, Central America and the United States.
Apart from drug trafficking, it also engages in extortion, murder, and racketeering.