Venezuela's President Maduro seeks to govern by decree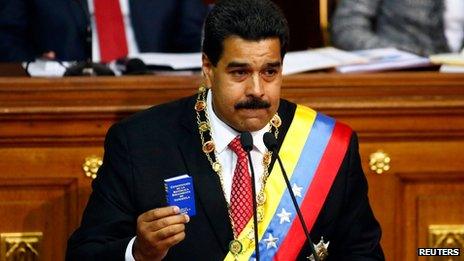 Venezuelan President Nicolas Maduro has asked parliament to give him special powers to fight corruption and what he called economic sabotage.
The country is currently facing shortages of food and essential goods, power cuts and soaring inflation.
The measure, used on four occasions by his predecessor Hugo Chavez, would allow Mr Maduro to govern by decree for a set period of time.
The opposition fears he will use his powers to stifle any dissent.
A vote to implement the so-called Enabling Law is due to be held in the National Assembly next week.
In a three-hour speech to the assembly, Mr Maduro called it a "matter of life or death" for the country's socialist revolution.
"If corruption keeps expanding and perpetuating its destructive capitalist logic, there will be no socialism here," he said.
Mr Maduro vowed to root out corruption in all aspects of Venezuelan life, stressing that even members of the governing Unified Socialist Party would not be exempt from scrutiny.
But Henrique Capriles, the opposition presidential candidate who narrowly lost the election to Mr Maduro earlier this year, said the decree would not solve the country's problems.
"I don't think this law will bring any economic or social benefit to Venezuelans," he said. "They're going to use the law to persecute and distract the people from their real problems."
Although Venezuela has the world's largest oil reserves, its people are suffering from the highest inflation in Latin America, sluggish growth and shortages.
A power cut last month left more than two-thirds of the country without electricity.
Finance Minister Nelson Merentes has conceded that while the social-oriented policies of Mr Chavez have improved the living standards of many Venezuelans, they did not solve the "structural problems" of the economy.
Hugo Chavez died of cancer in March after 14 years in power.
His vice-president and handpicked successor, Mr Maduro, has pledged to continue his policies but does not command the same support enjoyed by Mr Chavez.