Mexico monster truck driver faces homicide charges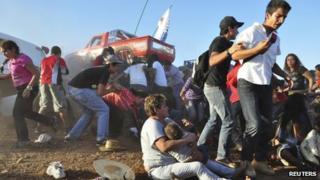 Prosecutors in Mexico say they will charge the driver of a monster truck that crashed into spectators at a show on Saturday with negligent homicide.
Eight people died and 86 were injured when the modified truck ploughed into the public at the event in Chihuahua.
The driver has told police he lost control of the truck after he hit his head on the roof of the cabin.
The monster truck with 1.5m-high (5ft) wheels was performing a demolition stunt during an annual air show.
Spokesman for the Chihuahua state prosecutors' office Carlos Gonzalez said the driver's breath had smelled of alcohol at the time of the accident, but that later tests had revealed no sign of intoxication.
The driver lost control during a stunt that involved crushing two cars beneath the monster truck's huge tyres.
Eyewitness video showed the truck completing one pass, driving over the cars, then turning for a second attempt.
It accelerated much more quickly this time and landed heavily over the second car before veering off to the right and into the area where spectators where standing.
Mr Gonzalez said driver Francisco Velasquez Samaniego had told investigators that he had bounced off his seat and hit his head, making him lose his sense of direction.
According to Mr Gonzalez, the driver acted negligently by heading towards the spectators instead of turning the out-of-control vehicle away from them.
"There were no [protective] barriers, and even if there had been, the truck would have crushed them," Mr Gonzalez said.
He also said that the event organisers would be investigated to determine if they were to blame for the lack of appropriate safety measures at the venue.