Mexico church collapse kills boy near Monterrey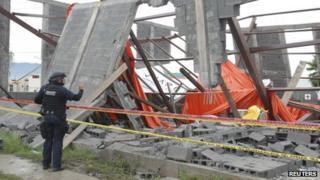 A church in Mexico has collapsed, killing a 10-year-old boy during a service attended by some 200 people.
The church, near the northern city of Monterrey, was still under construction and had been covered with a tarpaulin to shield worshippers from heavy rains.
Local officials said the weight of the water on the makeshift roof had pulled down the walls it had been tied to.
Some 20 people were injured in the incident during Sunday mass at Santa Clara Catholic Church in Juarez.
Heavy rains have been battering Mexico for the past two weeks. Widespread destruction remains evident in western parts of the country hit by Hurricane Manuel and eastern areas affected by Tropical Storm Ingrid.
Forecasters said more rain was expected to fall in the north-east on Monday.