Cuba athletes 'to keep foreign cash'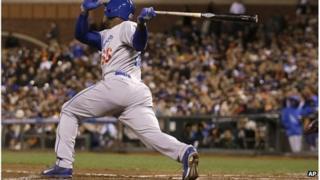 Cuban athletes are going to be allowed to keep most of their overseas prize money and sign contracts with foreign teams for the first time in decades.
Cuban athletes will get up to 80% of their prize money, more than five times the current level, state media reports.
The changes, which also include pay rises, are part of a wider reforms proposed by President Raul Castro.
Correspondents say the measures are an attempt to prevent top athletes from defecting to other countries.
The temptation is particularly real for baseball players, who can make millions in the United States major leagues.
Defectors Yasiel Puig and Aroldis Chapman are recent cases of Cubans who signed lucrative contracts with the LA Dodgers and Cincinnati Reds respectively.
US embargo
But for now, the change is unlikely to affect those wanting to play in the US, as the country's sanctions against Cuba prevent any funds going to its communist government, says the BBC's Sarah Rainsford, in Havana.
The measures approved by the council of minister allow Cuban athletes to sign contracts with foreign clubs or teams so long as they "are present in Cuba for the fundamental competitive events of the year."
Although the exact official current wages of athletes are unknown, they are believed to be around $20 (£12) monthly.
After the reforms, an Olympic medallist will be entitled to three times that amount, the state newspaper Granma reported.
There will also be an extra bonus for medals won in the Olympic, Pan-American or Caribbean Games.
Baseball players will have special performance incentives and prizes.
With the raise and performance bonuses, athletes could potentially hike their earnings significantly.
"We will see that there will be more effort put into the [baseball] series by the athletes. They will at least feel encouraged. Normally, what we miss here is encouragement, there is more than enough quality," baseball player and 2004 Olympics gold medallist Carlos Tabares told the Spanish news agency Efe.
Fidel Castro practically banned professional sport after the 1959 Cuban Revolution, encouraging athletes to compete for their country.
But through the years, more and more athletes seemed to be have been lured by opportunities abroad, which has hurt the standards of sport in Cuba.