Venezuela cuts red tape on imports of essential goods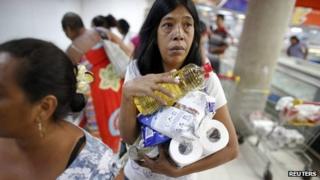 The Venezuelan government has announced measures to facilitate the import of essential goods, which have been in short supply.
Vice-President Jorge Arreaza said the government was cutting red tape for companies willing to import food, toiletries and mechanical parts.
Last week, the government took over a toilet paper factory.
The government has accused unscrupulous traders of trying to undermine its left-wing policies.
Current import licences have been automatically extended until the end of the year.
Mr Arreaza also announced that the government was giving importers easier access to foreign currency.
He said the measures had been approved by President Nicolas Maduro, who returned from an official visit to China on Wednesday morning.
UN trip cancelled
Mr Maduro had been expected to fly from Beijing directly to New York, where he was due to speak at the United Nations General Assembly.
Instead, he flew to Caracas via Canada, where, he said, he had cancelled his visit to the US for security reasons.
"When I got into Vancouver I evaluated the intelligence which we received from several sources. I decided then and there to continue back to Caracas and drop the New York trip to protect a key goal: safeguarding my physical integrity, protecting my life," the president said, after he had returned to Venezuela.
Another left-wing leader from the region suggested that the UN headquarters should be moved from New York.
"The headquarters should be in a state that has ratified all UN treaties," said Bolivian President Evo Morales, when he addressed the General Assembly on Wednesday.
"How can we be safe at a meeting of the United Nations here in New York? Some do not believe in imperialism and capitalism and feel totally unsafe."
President Maduro had accused the US of refusing visas for some of his team, something Washington denies.
The Venezuelan president also said he was planning legal action against Airbus, after his presidential plane developed a fault.
"A serious fault appeared in one of the wings of the plane after five months at Airbus in France - my God!" said President Maduro.
"With the help of an international law firm, we're preparing legal actions against Airbus of France."