Six inmates strangled in Salvadorean prison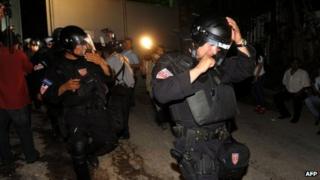 Six inmates, two of them minors, have been strangled to death in a prison in El Salvador, officials say.
Police said they belonged to the Mara Salvatrucha gang, an international criminal group which engages in extortion, racketeering and drug trafficking.
Prison officials believe the murders were a carefully planned settling of scores between gang members.
Extra police have been drafted in to patrol the jail in Tonacatepeque.
'Pre-meditated attack'
According to prison director Irma Mejia, the killings happened after the inmates had been celebrating Prisoners' Day but before they returned to their cells.
Inmates called the guards telling them the six had been taken ill, but when the guards arrived, the victims were already dead, Ms Mejia said.
The victims were serving sentences for crimes including extortion and murder.
Prison officials said they suspected their deaths had been ordered by gang leaders serving time in another prison.
They said it had been planned to coincide with Prisoners' Day festivities as the victims would have been drunk and therefore easier targets.
The mother of one of the victims, who was among the relatives attending the event, said it was not unusual for prisoners to drink.
"They always take alcoholic drinks, that's normal, but my son wasn't drunk, just the usual," she told the local press.
Prisons in El Salvador are notoriously overcrowded and violent as thousands of members of the country's notorious Mara Salvatrucha and 18th Street gangs await trial or serve their sentences.
The two gangs signed a truce in March 2012 but there is fear it may be crumbling, with gang-related murders on the increase in recent months.