Colombian poet and writer Alvaro Mutis dies aged 90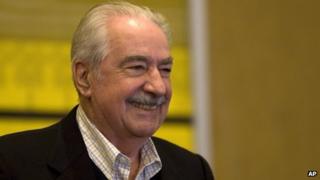 Colombian writer and poet Alvaro Mutis has died at the age of 90.
Mutis, who won the most prestigious awards for Spanish language writing, died in Mexico after a long illness.
Among his best known works was The Adventures and Misadventures of Maqroll, a collection of seven novellas about an adventurous sailor.
Although he had lived in Mexico since 1956, rural Colombia and his family's coffee and sugar cane plantation often featured in his work.
Some of his work also dealt with darker topics.
In Diary of Lecumberri he described the 15 months he spent in the Mexican prison of the same name awaiting trial on embezzlement charges.
The charges, brought by a US oil company he was working for at the time, were later dropped.
He described his spell in jail as "a lesson I will never forget in the most intense and deep layers of pain and failure".
Colombia as inspiration
Born in 1923 in Bogota, he spent his early childhood in Brussels, where his father was posted as a diplomat.
But during the holidays, he would return to Coello, his grandfather's farm in Colombia's central Tolima province.
He said the voyages there by ship, road, and mule were the inspiration for his subsequent career as an author.
"From there, from Coello and its environs, stems my little universe. That land is the source of everything I have written. I don't care what value my novels have or how long they'll last in people's memories ... what really matters to me is that I kept Coello alive for a bit longer," he said.
His literary career began in 1948 with the publication of The Balance, a book of poetry.
He once compared the process of writing poetry to his other passion, billiards.
"Taking a good shot is similar to composing a poem... in both cases you analyse the situation, then you disregard the obvious solutions, you think calmly, and then, suddenly you know 'It's this way', you take your shot and see what happens."
He enjoyed widespread popularity, particularly in Latin America and Spain, which in 2001 awarded him the country's highest literary prize, the Premio Cervantes.
He was a close friend of Colombia's best-known writer, Gabriel Garcia Marquez, who called Mutis "one of the greatest writers of our time".
Colombian President Juan Manuel Santos said that "the millions of friends and admirers of Alvaro Mutis profoundly lament his death".