Venezuelan National Guardsmen arrested over drugs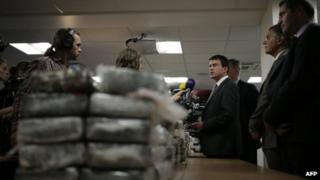 Three members of Venezuela's National Guard have been arrested on suspicion of involvement in the smuggling of a massive haul of cocaine on an Air France flight from Caracas to Paris.
French border police found 1.3 tonnes of cocaine in 31 suitcases on a flight arriving from Caracas.
The seizure was one of the biggest ever to be made on French territory.
Venezuelan Interior Minister Miguel Rodriguez said he expected more arrests would be made over the coming days.
The drugs were stashed into the suitcases on the Air France flight which arrived at Charles de Gaulle airport in Paris on 11 September, but details of the seizures had been withheld for "operational reasons", French officials said.
About a tonne of the drugs was seized at the airport, while the remainder was found inside a lorry heading from Paris to Luxembourg after arriving from Venezuela.
Air France said it was investigating whether there was any complicity within the company.
The drugs had been destined for the 'Ndrangheta, the Italian mafia based in Calabria that controls some 80% of all cocaine imports into Europe.
Cross-border operation
Venezuelan officials have now launched an investigation into how the drugs - worth more than £100m ($160m) - got on board the flight.
Mr Rodriguez said two National Guard sergeants and a lieutenant from the anti-drug unit had been detained on Sunday as part of the investigation.
Six people have already been arrested in France on suspicion of belonging to an international drugs smuggling ring. Three of them were from Britain, while the other three were from Italy.
The names of those detained have so far not been released.
French Interior Minister Manuel Valls said the arrests were the result of intelligence sharing between French police and their European colleagues.
He said international co-operation between the continent's police forces was key as international drug traffickers were "constantly setting up new strategies".
"They are diversifying drug routes, so we therefore have to adapt our operations, and our strategies to these developments," he said at a news conference.
The United Nations Office on Drugs and Crime says Venezuela does not produce sizeable quantities of cocaine, but it has become a transit country for cocaine from Colombia, Peru, and Bolivia, which is shipped to the United States and Europe.