Mexico storms: Village landslide missing 'probably dead'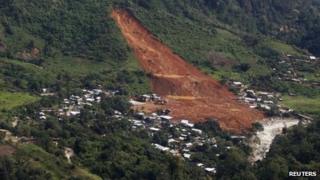 Mexico's President Enrique Pena Nieto says it is likely that all 68 people missing after a huge mudslide in the village of La Pintada are dead.
Mr Pena Nieto spoke after overseeing rescue operations in the village, having cancelled his visit to the UN General Assembly next week.
If confirmed, the deaths would raise the toll from Tropical Storm Manuel and Hurricane Ingrid to around 170.
Among the dead are five crew members of a crashed rescue helicopter.
The two powerful storms hit Mexico at the start of the week.
Tropical Storm Manuel ripped through the state of Guerrero before returning to the Pacific.
On the Gulf coast of Mexico, Hurricane Ingrid caused destruction mainly in the eastern state of Tamaulipas early in the week, before dissipating.
'New La Pintada'
On his tour through the south-western state of Guerrero, the president said there was "little hope of finding anyone alive", but promised to rebuild La Pintada and the resort of Acapulco, which both suffered heavy damage.
"I'm going to return to La Pintada. I'm going to inaugurate the new La Pintada," he told reporters after overseeing the search operations in the huge mudslide that buried half of the village.
Meanwhile, authorities found the remains of a Black Hawk helicopter that had been missing since Thursday.
All five Federal Police crew members were dead, officials said.
Tens of thousands of people were left homeless and the cost of rebuilding roads alone is estimated at $3bn (£1.8bn).
Mr Pena Nieto also said he was launching a campaign to get Acapulco "back on its feet" as a top tourist destination.
Tens of thousands of tourists were left stranded at the coastal resort after Tropical Storm Manuel hit on Monday.
Around 20,000 were airlifted to Mexico City, while a similar number was transported by bus since Thursday, when the road links were re-established, officials say.
Tropical Storm Manuel, which on Thursday briefly became a hurricane, also affected 100,000 people in Sinaloa state, the government says.
At least 15 towns were cut off from the rest of the state by water and mud.
The neighbouring states Oaxaca and Michoacan were also hard hit.
Later in the week, Manuel returned with more power, lashing the north-western state of Sinaloa with winds of up to 120kmph (75mph) and floods.
Officials say more than 100,000 people were affected by the return of Manuel to land on Thursday, before it dissipated in northern Mexico.