Colombia bar victims 'suffocated' in Bogota nightclub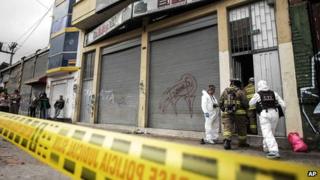 Colombian forensic experts carrying out tests on the bodies of five women and a man who died in a stampede in a bar in Bogota on Sunday say the cause of death was "mechanical asphyxiation".
They ruled out that pepper spray was to blame for their deaths.
The six died when panic broke out and patrons rushed for the exit in the overcrowded club as police tried to raid it.
Witnesses said a form of gas had been released in the bar during the raid.
The director of the National Institute of Legal Medicine and Forensic Sciences, Carlos Eduardo Valdes, said that "without any doubt the cause of death in theses six cases is acute respiratory insufficiency".
"The cause of death is not linked to the use of any gas," he added.
Overcrowding
Witnesses had accused police of causing the deaths by using pepper spray and excessive force.
"The police came and banged on the door and threw gas below [the door], and people started choking," bar owner Luz Marina de la Pena told local radio.
Bogota Police Chief Luis Eduardo Martinez said that "inside the nightclub there was a stampede, the police managed to open a very narrow door through which people tried to escape".
Gen Martinez had earlier announced there would be an inquiry to establish what had happened.
"There must be an investigation as to how this gas came to be inside this place and that's why the attorney general's office is involved," he said.
The interior ministry has ordered all nightclubs be checked and those which do not comply with health and safety regulations, or which operate illegally, be closed.
At the time of the stampede about 300 people are believed to have been crammed into the bar, which has a capacity of 100.
Officials said it did not abide by minimum safety standards, such as having emergency exits or a clearly marked escape route.
More than 4,000 venues have been temporarily closed this year in Bogota for failing to comply with safety regulations, police say.
Many of them are illegal clubs which open after licensed bars have closed.