Venezuela: Capriles appeals to OAS human rights commission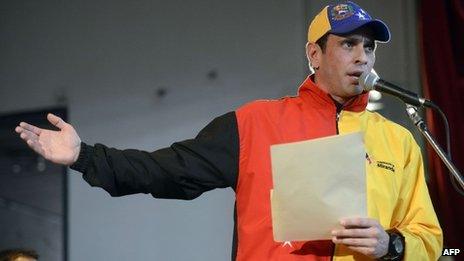 The defeated Venezuelan presidential candidate, Henrique Capriles, has filed a request at the Inter-American Commission on Human Rights to declare the April election void.
Mr Capriles alleges there was widespread fraud in the vote narrowly won by acting president Nicolas Maduro.
Last month, the Venezuelan Supreme Court rejected a final plea by Mr Capriles to have the vote annulled.
Mr Capriles vowed to take his fight beyond Venezuela.
Mr Maduro has repeatedly rejected the opposition allegations of fraud.
He also dismissed the Washington-based human rights organisation as lacking credibility.
He praised the late president, Hugo Chavez, for beginning proceedings to pull out from the body last year.
Venezuela is due to officially withdraw from the Commission on Tuesday.
The Inter-American Commission on Human Rights is part of the Organisation of American States (OAS).
"They believe they are a supranational power, a power above the legitimate governments of the continent. Their time is passed," said Mr Maduro.
The Venezuelan government decision was criticised by Amnesty International as "a serious setback for the rights of Venezuelans."
Opposition politician Ramon Jose Medina filed the request, signed by Mr Capriles, at the OAS headquarters.
The Venezuelan government "must be forced to reinstate the rights they violated," said Mr Medina.
"The elections, which were fraudulent, must be repeated and the electoral process must be free and fair."
Mr Maduro won the 14 April vote by less than 1.5 percentage points - about 200,000 votes.
Mr Chavez died on 5 March after a long battle against cancer.
Before going to Cuba for a last round of treatment in December, he appointed Mr Maduro as his preferred successor.