Colombia Santos: Farc 'to keep weapons until referendum'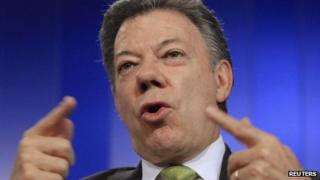 Colombian President Juan Manuel Santos has said the Farc rebels would be allowed to keep their weapons until a peace agreement was ratified.
Mr Santos said no-one could expect the rebels to give up their weapons before a peace accord had been given final approval in a referendum.
He added that a ceasefire would be implemented once a deal was reached in talks under way in Cuba.
Critics say a referendum should not be held until the rebels disarm.
Mr Santos last month surprised the rebels when he proposed legislation demanding that any accord would have to be approved by the Colombian people in a referendum.
'Enemies of peace'
"If we have an agreement, then we enter a third phase of implementation," President Santos said on Friday.
"And I have promised that the Colombian people would have the opportunity to have their say."
If peace negotiators engaged in talks since November last year reach a deal, it is likely that a referendum will be held on the same day of the May 2014 presidential vote.
But it could also be held in March, when Colombians vote on a new Congress.
"The Colombian people will see the final work, the final package and decide. And I am certain that the Colombian people will back me up."
Mr Santos criticised "the enemies of peace." He said those opposed to an agreement to end five decades of conflict in Colombia "are trying to demonise the process and create fear in the country."
"If we reach some agreement, then we will have an immediate ceasefire. That is what we have agreed," Mr Santos said in an interview to BluRadio station in Bogota.
The rebels have called for a ceasefire throughout the negotiations, which began in Havana in November.
But the government said the rebels would use the truce to rearm and vowed to continue fighting until they signed an accord renouncing to the armed struggle.
Officially there has been agreement on only one of six points on the agenda - land reform.
But the government's chief negotiator, Humberto de la Calle, and the rebels hailed progress in the talks in a joint statement issued last month.
Five decades of internal conflict in Colombia have led to the displacement of hundreds of thousands of people.
And a study by Colombia's National Centre for Historical Memory suggests 220,000 people have died in the violence.