'Dirty War' judge Romano extradited to Argentina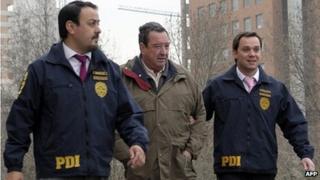 A former Argentine judge has been extradited to face charges of human rights abuses during the 1976-1983 military rule.
Otilio Romano arrived from Chile late Wednesday in the north-western city of Mendoza and was taken into custody.
He has been accused in Argentina of complicity in forced disappearances, torture and illegal raids.
Mr Romano fled to Chile when the allegations emerged two years ago.
He used to work as a state prosecutor in the city of Mendoza.
There he allegedly committed more than 100 human rights crimes, including false arrest, disappearance of people, torture and denial of justice.
Mr Romano was suspended from the post of judge in August 2011.
The day before the decision was announced he fled to Chile to avoid trial and asked for political asylum there.
Chile rejected the request and placed him under house arrest.
Three months ago Chile's Supreme Court approved his extradition.
In December 2011, Mr Romano was expelled from the Council of Magistrates, which considered him an accomplice of the military government in human rights abuses.
Human rights groups estimate that at least 30,000 people were killed during the military government era in Argentina.
The period became known as the "Dirty War".
The military government said they needed to combat "left-wing terrorism".