Mexican Senate backs contentious education reform bill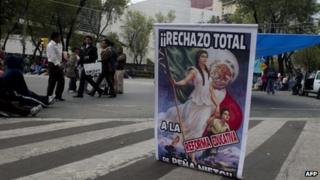 Mexico's Senate has passed a bill which will make it mandatory for teachers to undergo performance evaluations.
It is part of a package of wide-ranging education reforms backed by President Enrique Pena Nieto.
The reforms have been opposed by a teachers' union, the National Education Workers' Co-ordinator (CNTE). which says they will lead to mass lay-offs.
Thousands of its members protested outside the Senate in an attempt to disrupt the passing of the bill.
The legislation, which had already been approved by the Chamber of Deputies, will require teachers to take tests before they can get jobs or be promoted.
Its passing is a victory for Mr Pena Nieto, who made the reform of Mexico's poor education system one of his main priorities.
He signed the education law in February, but parliamentarians needed to draw up separate legislation to implement it.
His government has argued that the unions' overwhelming control over teaching jobs has contributed to corruption, which has seen poorly trained teachers promoted over more qualified colleagues.
Education Secretary Emilio Chauyffet said "the inheritance and sale of jobs" had now ended, referring to the wide-spread practice of parents passing their teaching posts to their children or selling them to the highest bidder.
CNTE members have been protesting for more than a week, paralysing parts of the capital, Mexico City, and even forcing the president to deliver his state-of-the-union speech a day later than normal from his residence rather than a central venue.
Hundreds of thousands of schoolchildren have also had no lessons as teachers went on strike in Nayarit and Quintana Roo, among other states.
The CNTE has threatened further protests and strikes in the coming days.