Bolivia boy's 'killers' found dead in Brazil prison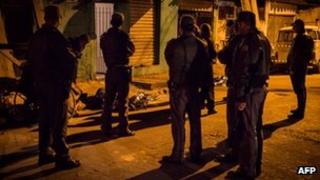 Two Brazilian men accused of murdering a young Bolivian boy in June have been found dead in prison in Sao Paulo, local officials have said.
The men were believed poisoned by other inmates at the Santo Andre jail.
Brayan Yanarico Capcha, 5, was shot in the head by masked robbers who complained he was crying too much during a robbery at his family's house.
The boy's family said he had begged the robbers not to be killed. He was in his mother's arms when they shot him.
The two men found dead in jail were named by the officials as Paulo Ricardo and Felipe Martins dos Santos Lima.
They had been awaiting trial and two other suspects are still reported to be on the run.
All four men were said to be from an area close to the San Carlos shantytown in the east of Sao Paulo where the boy's family was living. His parents have since returned to Bolivia.
Brayan Capcha's murder shocked people in Sao Paulo - a city familiar with high levels of violence.
It also triggered protests by Bolivian migrants.
Tens of thousands of Bolivian immigrants live in Sao Paulo. Most of them live and work in very basic conditions.
Many, like the Yanarico family, speak very little Portuguese and Spanish. Their native tongue is either Aymara or Quechua, Bolivia's main indigenous languages.