Venezuelan jailed for shooting US diplomats in Caracas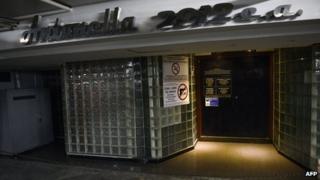 A Venezuelan man has been sentenced to five and a half years in prison for opening fire on two US diplomats in a Caracas strip club.
The attorney general's office said Carlos Mejias admitted wounding the military attaches after a brawl in May.
"He pulled out a gun and repeatedly fired at the Americans," it said in a statement.
One of the diplomats was shot in the leg, the other in the stomach. But neither had life-threatening injuries.
The incident took place at the Antonella 2012 Club, a pole dancing bar in the Chacao neighbourhood of Caracas, the statement said.
Mr Mejias surrendered to the authorities five days later and was charged with attempted murder.
A second Venezuelan has been charged with being an accessory to attempted murder.
Caracas is considered one of the most dangerous cities in Latin America.
Diplomats have been targeted by criminals in recent years with officials from Costa Rica, Chile, Mexico and Belarus being briefly abducted.
Last year, the government introduced a new gun law banning the sale of firearms and ammunition.