Mexico exports 100% blue agave tequila to China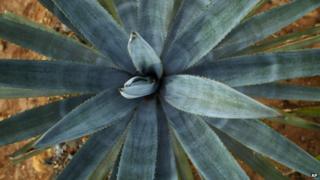 Mexico's agriculture ministry says drinks firms have shipped their first load of top quality tequila to China.
More than 70,000 bottles of the 100% blue agave tequila were loaded onto a container, due to arrive on the Chinese market in a month.
China banned finest quality tequila over fears of high methanol content. But President Xi Jinping lifted the ban after a visit to Mexico in June.
Tequila firms hope to make China their second biggest market after the US.
Mexican officials say they expect to send 10 million litres of tequila to China over the next five years.
Quality juice
Tequila is distilled from the juice of the blue agave plant.
A certificate of origin is applied to drinks produced in five Mexican states, including Jalisco, where the town of Tequila is located.
President Xi and his Mexican host, President Enrique Pena Nieto, paved the way for the move during their meetings in June.
The head of Mexico's Ministry of Agriculture, Enrique Martinez, then travelled to China to make final arrangements for the lifting of restrictions.
Mexico will also start exporting pork to China, EFE news agency reported.
Efforts are continuing aimed at making produce including lemons, avocadoes, asparagus and spring onions available to Asian markets, officials said.