Colombia offers deal to striking farmers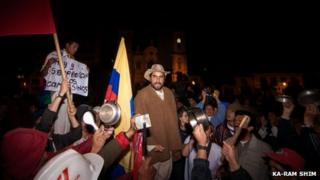 The Colombian government has offered concessions to small-scale farmers on strike for more than a week.
Finance Minister Mauricio Cardenas said the measures - including better prices for their products and more access to loans - should ease pressure on them.
Farmers say the government's agricultural and trade policies are driving them into bankruptcy.
Negotiations between farmers' groups and government ministers remain deadlocked.
The government also promised more protection for products imported at lower prices from countries that have signed free trade agreements with Colombia.
"We believe that the conditions exist for the strike to be lifted and for the highways to be unblocked," said Mr Cardenas.
Major disruption
The protests by thousands of livestock, dairy and crop farmers have been paralysing parts of the country.
Some of them have turned violent and disrupted food supplies, with protesters setting up road blocks on key access routes to cities and towns.
Farmers have also been destroying their produce and throwing it into the streets.
The government had hoped agreement on enough issues could be reached for the protesters to lift the roadblocks.
Eleven major highways are still barricaded and the central province of Boyaca remains cut off.
The protests started more than a week ago.
Small-scale farmers say that free trade agreements with the European Union and the United States, which have recently come into force, are flooding the market with agricultural products at prices they are unable to match.
They also complain that rising fuel and production costs have turned small-scale farming into a loss-making business.
The farmers have been backed by some student and trade union groups which have held demonstrations in the capital Bogota and the city of Cali to show their support.