Canadian Gernot Wober freed by Colombia ELN rebels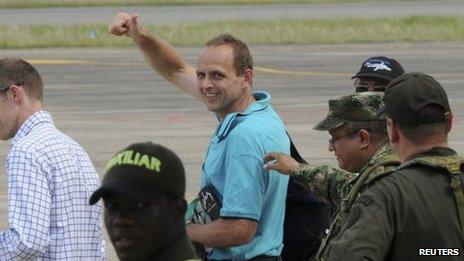 Colombia's second largest rebel group, the ELN, has freed a Canadian man they seized seven months ago.
Gernot Wober was handed over to the International Committee of the Red Cross (ICRC) at an undisclosed location in the north of the country.
Mr Wober was taken hostage by the left-wing rebels in January.
The ELN had demanded that his employer, Braeval Mining Corp which is based in Toronto, drop plans to prospect for gold in northern Colombia.
The ICRC said it had received Mr Wober in a rural area in Bolivar, the same state where he had been kidnapped.
He was reportedly in good health.
'Conflicts can be solved'
Braeval Mining Corp said Mr Wober would be returning to Canada to be re-united with his family at the earliest opportunity.
The head of the ELN, Nicolas Rodriguez, said Mr Wober's release was a humanitarian act.
"We hope that this gesture contributes to peace in Colombia," he said in a video posted on the internet.
"We want to highlight in our message that this outcome proves that conflicts can be solved through negotiation."
The ELN has previously said that it wants to hold peace talks with the Colombian government.
But the authorities have insisted it should first release all its hostages.
Mr Wober was kidnapped on 18 January alongside five other workers who were released shortly afterwards.
There had been hopes in Colombia that another ELN hostage, Colombian national Luis Andres Montes who was kidnapped in July 2012, would also be released on Tuesday, but this did not happen.
The ELN asserted that the land where Mr Wober's employer had been exploring for gold was stolen from its legitimate owners.
Braeval Mining Corp announced in July that it was pulling out of the country.
The ELN, founded in 1965, has about 1,500 members, officials say.
The Colombian government is currently holding peace talks in Cuba with the country's largest rebel group, the FARC.