Colombian soldiers killed in ambush in Arauca province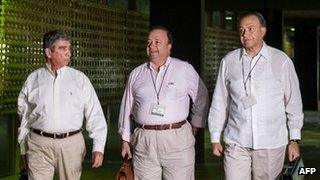 At least 13 Colombian soldiers have been killed in an ambush by Farc left-wing rebels in the east of the country, the army says.
Last month, 15 soldiers were killed by the rebel group in the same region.
Even though Farc rebels and the government are holding peace talks in Cuba, both sides are continuing to target each other militarily.
On Friday the Farc announced a "pause" in the talks and the government later withdrew its team of negotiators.
However, the talks are expected to resume soon.
Saturday's attack occurred in the eastern province of Arauca.
A statement by the Colombian army command said: "After a terrorist action by the Farc, two non-commissioned officers and 11 soldiers were killed and another one injured."
As news of the attack became public, the government's chief negotiator, Humberto de la Calle, said President Juan Manuel Santos had instructed his team to return to the negotiating table.
The Farc announced a "pause" in order to study a proposal that any peace deal must be put to a referendum.
The talks began last November, and the Farc's move was the first time either side had broken off negotiations other than for planned recesses.
The latest round was focusing on the eventual participation of the rebels in Colombian politics.
So far, the two sides have reached agreement on land reform, the first of six points on their agenda.
A recent study by Colombia's National Centre for Historical Memory suggested 220,000 people have died as a result of the five decades of conflict.