Workers at the Alma telescope in Chile go on strike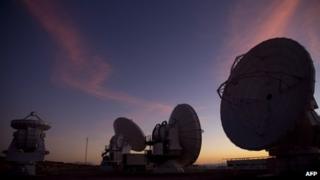 Workers at the world's biggest radio telescope in Chile have gone on strike to demand a pay rise.
They are also demanding benefits to compensate for the high altitude and isolation they endure.
The Alma (Atacama Large Millimeter/Submillimeter Array) observatory is more than 5,000 metres above sea level in the Atacama desert in northern Chile.
Alma said it would be able to continue basic operations.
The union's president, Victor Gonzalez, said nearly 200 workers at the Alma observatory had gone on strike to demand a 15% pay rise after failing to reach agreement with Associated Universities Inc (AUI), their US employers.
The workers endure difficult living conditions and are exposed to strong winds, thin air and severe temperature drops.
Alma regretted not reaching an agreement with the union, but said the strike would not halt its operations completely.
"Alma has activated a contingency plan that will enable it to continue basic operations," the observatory said.
The 194 striking workers are technicians and administrators and do not include scientists.
Alma's antennas are in a remote part of the Atacama desert 5,200 metres above sea level.
The dryness and low interference from other radio signals create some of the best conditions for observing the night sky.
The observatory is funded by the European Union, the United States, Canada, Taiwan and Japan.
It has 66 huge antennae which can observe a wide range of objects in the sky and is expected to provide new information that may help explain the origins of the universe.