Paraguay's congress gives new president more powers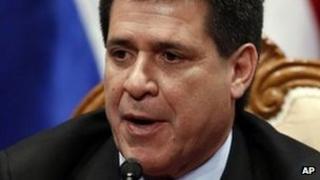 A week after being sworn in, President Horacio Cartes of Paraguay has won new powers from both houses of parliament to deploy the military to tackle unrest in the country.
On Thursday the senate gave its backing to the move, the day after the lower house had done so.
The move is primarily aimed at fighting armed rebels from the Paraguayan People's Army (EPP).
They have been blamed for a series of attacks in the north of the country.
The Colorado Party and its allies in congress wasted no time in agreeing to a request by President Cartes to send troops to fight the leftist rebels without first declaring a state of emergency.
The request follows an attack last Saturday blamed on the EPP in San Pedro region, north of the capital, Asuncion.
The attack involving the kidnapping of security guards took place on a cattle ranch owned by a Brazilian national.
Four bodies were found by policemen who attended the scene. The body of a fifth guard was found later.
The police officers were then ambushed, and one was reportedly injured, allegedly by the EPP.
President Cartes decided to send the army to the area, but first had to amend the law so it could reinforce the police in its fight against the EPP.
Critics said the new powers were a dangerous development for a country that spent much of the 20th Century under military dictatorship.
The EPP is believed to have killed about 30 people since 2005.