El Salvador match-fixing claims: 22 footballers suspended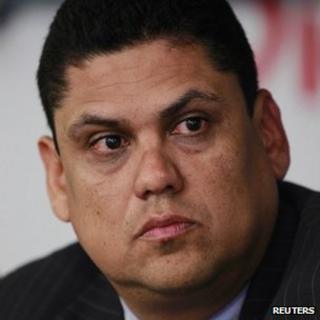 El Salvador's football federation has provisionally suspended 22 players, pending an investigation into alleged match-fixing.
"The players who took part in the suspect matches will be suspended for 30 days," said the federation's president, Carlos Mendez.
He said the prosecutor's office would help with the investigation.
Only two of the banned players have not played for the national team.
Mr Mendez said football's world governing body, Fifa, had been notified so the suspensions would include players abroad.
"This is not a punishment, these are provisional, precautionary measures," said Mr Mendez.
He added that El Salvador would not play any matches until the complaints were resolved.
The matches under investigation include El Salvador's 5-0 Gold Cup loss against Mexico in July 2011; a 2-1 defeat by the United States in February 2010; a 1-0 loss to the American team DC United in July 2010; and a 4-1 defeat by Paraguay in February 2012.
Local media in El Salvador reported that the authorities had raided the homes of several of the suspended players.