Mexico City bodies may be missing youths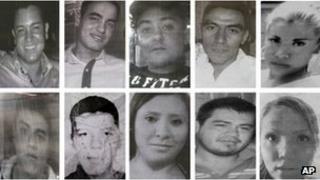 The authorities in Mexico say a number of bodies found on a ranch east of Mexico City may be those of 12 youths abducted in May.
So far they have recovered seven bodies, but some reports say there may be up to 13.
The police said a suspect led them to two graves in a forested area near an eco-tourism park.
They said they were carrying out DNA tests to establish the identity of the bodies.
"We won't have any results before two days at least. The bodies are badly decomposed," said prosecutor Rodolfo Rios.
The 12 young people disappeared in May after visiting the Heaven bar in the popular Zona Rosa entertainment district of Mexico City.
Surveillance footage shows some of the missing being led to cars outside the bar two at a time.
There is no obvious sign of force and the men who take them away are not masked and do not seem to be carrying weapons.
A friend of the missing said at the time that the motive was warfare between two rival drug-dealing gangs.
He said the abduction was linked to rivalry between the Union and Tepis gangs, engaged in drug-dealing in the Tepito neighbourhood of Mexico City.
All of the missing are from Tepito, with three of them related to jailed crime bosses from the area.
An estimated 70,000 people have died in drug-related violence in Mexico over the past six years, much of it committed by powerful drug cartels.
The violence has mainly been concentrated in the northern states bordering the United States and in the west, with the capital largely spared.