Mexico arrests 'Queen of Pacific' after US deportation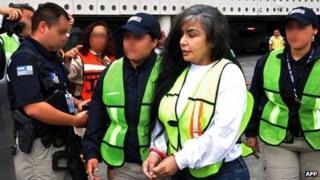 A woman dubbed the "Queen of the Pacific" because of her alleged links to the drugs trade has been deported to Mexico from the United States.
Sandra Avila Beltran, 52, was arrested as she arrived in Mexico City. She is facing money laundering charges.
She was sentenced by a US court last month to 70 months in jail for helping an ex-lover evade capture but released early because of time already served.
Authorities say she will be flown to a prison in the state of Jalisco.
She will be charged with using illicit funds, Jalisco authorities say.
Avila Beltran, 52, was flown to Mexico in a plane used to repatriate Mexicans from the US and was handed to the authorities upon arrival.
Mexican prosecutors accuse her of playing a major part in the establishment of the Sinaloa cartel in the 1990s, one of the country's most powerful criminal organisations.
After being extradited to the US in 2012, she was initially accused of creating drug-smuggling routes up the Pacific coast into California.
But she agreed a deal with US authorities to ensure she faced a lesser charge, and was handed a jail sentence.
US federal judge Michael Moore convicted her of helping a former lover, the Colombian Juan Diego Espinosa known as "The Tiger", evade justice. He was one of the leaders of the Sinaloa cartel.
The 70-month jail term meant she was freed early because of sentences already served in Mexico and the US.
Mexican police say she has close ties to infamous drug dealers, including her uncle Miguel Angel Felix Gallardo, known as the "Godfather", who is serving a 40-year prison sentence in Mexico for drug-related crimes.
She has maintained her innocence, saying she made her fortune selling clothes and renting property.
In February 2011, the director of the prison where she was being held in Mexico was sacked after it emerged that a doctor had been allowed into her cell to give her botox injections.