Mexican-Polish fight in Gdynia: Two charged over attack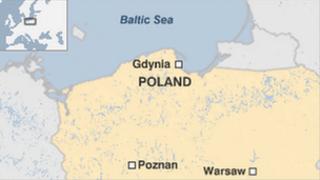 Polish police have charged two people with assault after a group of Mexican sailors were involved in a brawl with Polish football fans on Sunday.
Dozens of fans attacked the Mexican navy cadets on a beach in the town of Gdynia, on the Baltic Sea coast.
Some accounts said the fans of the Ruch Chorzow team shouted racial abuse as they charged at the sailors, injuring 17 of them.
However the Polish fans blamed the Mexicans for starting the fight.
Mexico has summoned the Polish ambassador in the wake of the incident.
"Three Poles were detained. Two of them were charged. They face a sentence of five years in prison for assault," local police spokesman Michal Sienkiewicz told the AFP news agency.
He said about 40 people in total were involved in the brawl. "It's still not possible to say who started it," he added.
The Ruch Chorzow fans association said fans had tried to help a woman who had been hit in the face by one of the sailors.
However, Polish Radio quoted prosecutor Michal Niesiolowski as blaming the Poles for the violence.
"At the current level [of investigation], it has been established that the attackers were Polish citizens, and the injured party were Mexicans," he said.
Two Mexican sailors were taken to hospital with serious injuries, though officials said they were now out of danger.
Officials in Mexico City said they had asked the Polish foreign ministry "for its intervention in order to ensure that authorities find those responsible for the deplorable incident and punish those guilty".
The Mexican foreign ministry said in a statement that 57 cadets and officers from the Cuauhtemoc training ship had been taking a break on the beach when they had been assaulted by some 300 "alleged fans of a soccer team".