Brazil firemen charged over Kiss nightclub blaze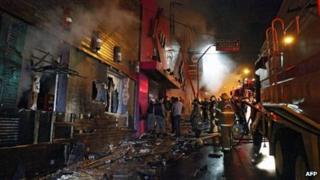 Eight firefighters in Brazil have been charged in connection with the blaze that killed 241 people in a nightclub in the city of Santa Maria in January.
The men are accused of different types of fraud involving the operation licences of the Kiss nightclub.
These are the responsibility of the fire department in Brazil.
Sixteen other people have been charged over the deaths, including band members and the owners of the nightclub, who are accused of manslaughter.
Investigators say fireworks used by a band on stage set alight the insulation material in the nightclub which in turn produced the toxic fumes which killed most of the victims.
There were also a number of licensing irregularities at the Kiss nightclub, including not having a proper fire plan, which is a legal requirement.
The fire department is in charge of checking and enforcing these regulations.
Prosecutors are accusing the eight men of misrepresentation and not observing the law.
There are several separate inquiries into the blaze.
Most of the victims died after inhaling the toxic smoke produced when ceiling insulation foam caught fire.
Investigators also criticised the fact that the venue only had one exit.