Last of Tijuana cartel's Arellano Felix brothers jailed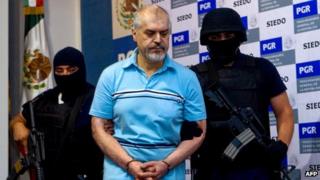 A court in the south-western US city of San Diego has sentenced the last of the brothers who ran Mexico's notorious Tijuana cartel.
Eduardo Arellano Felix is to serve 15 years in jail, after pleading guilty to charges of money laundering.
He was arrested in Mexico in 2008 and extradited to the US a year ago.
The group, also known as the Arellano Felix Organisation, is said to have controlled cocaine smuggling into the US for nearly two decades.
'Ashamed'
A judge in San Diego told Arellano Felix, also known as The Doctor, he should have been aware of the "terrible effects" of the cartel's activities, despite being mainly responsible for its finances.
"And for that, you should be ashamed," said judge Larry Burns, who sentenced Eduardo's brother Francisco Javier to a life sentence in 2007.
Another of Eduardo Arellano Felix's brothers, Benjamin, is also serving a sentence in a US prison.
A fourth brother, Ramon, died in a shoot-out in Mexico in 2002.
The oldest brother, Francisco Rafael, was convicted in 2008 to six years in prison for selling drugs to an undercover agent, but the US authorities set him free as he had already served the time in Mexico.
Eduardo Arellano Felix asked the judge if he could share a cell with Benjamin - said to be the group's mastermind - who was jailed in 2011 for 25 years, Mexican media report.
The US Drug Enforcement Administration said Eduardo's extradition marked "the end of a 20-year DEA investigation into this vicious drug cartel".
The group inspired the US film Traffic by Steven Soderbergh.
The cartel is said to have tortured and killed rivals in the US and Mexico, including by dissolving the bodies of enemies in vats of corrosives.