Paraguay 'EPP leftist rebels' kill five in San Pedro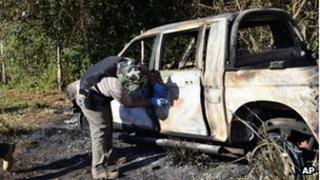 Paraguay has declared a "maximum alert" following the kidnapping and killing of five security guards at a cattle ranch.
Authorities blamed Saturday's attacks in San Pedro region north of the capital, Asuncion, on leftist rebels the Paraguayan People's Army (EPP).
Correspondents say this is the first major challenge faced by conservative President Horacio Cartes, who took office on Thursday.
So far, the government has ruled out the militarisation of the area.
However, Defence Minister Bernardino Soto Etigarribia said that President Cartes could deploy the armed forces.
"We will not say when or where the troops will be used. That remains to be seen," Mr Soto told reporters.
The government says it is ready to act with "maximum rigour".
The attack involving the kidnapping of security guards took place on a cattle ranch owned by a Brazilian national.
Four bodies were found by policemen who attended the scene. The body of a fifth guard was found later.
Police officers were then ambushed, and one was reportedly injured, allegedly by the EPP.
The group is a Marxist-inspired rebel group which has been active in the impoverished northern region for more than five years.
It is thought to have killed dozens of people, but says it only targets the country's oligarchy.
Multi-millionaire businessman Horacio Cartes was sworn in as the president of Paraguay on Thursday, in a ceremony in the capital, Asuncion.
In his inaugural speech, Mr Cartes, of the centre-right Colorado Party, promised to wage war on poverty.
Paraguay is one of the poorest countries in South America.