Chile strike at BHP Billiton's Escondida mine ends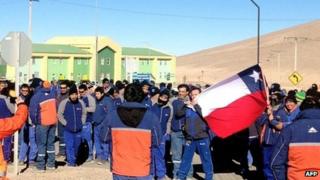 Workers at the world's biggest copper mine, in Chile's Atacama desert, have returned to work after an unannounced 24-hour stoppage.
The 2,500 workers at the Escondida mine are asking for better pay, an annual bonus and improved working conditions.
BHP Billiton, which controls the mine, had not yet responded to their demands, said union leader Marcelo Tapia.
Workers will have another meeting on Friday night to decide whether to go on strike again.
"We are in a state of alert," said Mr Tapia.
All operations were halted at Escondida from Wednesday morning to Thursday morning.
The strike closed two other mines controlled by BHP Billiton - Spencer and Cerro Colorado.
Chile produces a third of the world's copper, widely used in alloys and electric cables.
The Escondida mine, in northern Chile, produces more than a million tonnes of copper per year. That amounts roughly to 20% of the Chilean output.
BHP owns 57,5% of the operation and Rio Tinto 30%. The two international companies have not commented on the stoppage.
The last strike at the Escondida mine, in July 2011, lasted two weeks and pushed up international copper prices.
Mining plays a key role in the Chilean economy. The country goes to the polls in November to choose a new president.