Chile: Strike closes world's top copper mine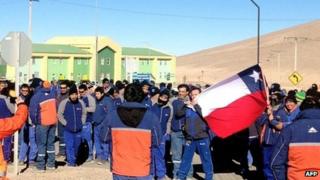 Some 2,500 workers at the world's biggest copper mine, in northern Chile, have begun an unannounced strike over pay and other demands.
The strike at the Escondida mine was initially planned to last 24 hours, union leader Marcelo Tapia said.
But the movement's officials will meet again to assess whether to extend it.
Chile produces a third of the world's copper, a metal widely used in alloys and electric cables.
Workers are demanding better pay, an annual bonus and improved working conditions.
Presidential vote
"All operations have been halted. It is due to a variety of issues that the company has not been responding to," Mr Tapia told Reuters.
Workers at two other Chilean mines controlled by international company BHP Billiton - Spencer and Cerro Colorado - have also joined the stoppage, Mr Tapia said.
BHP Billiton and Rio Tinto, which owns 30% of the mine, have not commented on the industrial action.
The Escondida mine, in the Atacama desert, produces more than a million tonnes of copper per year. That amounts roughly to 20% of the Chilean output.
The last strike at the Escondida mine, in July 2011, lasted two weeks and pushed up international copper prices.
Mining plays a key role in the Chilean economy. The country goes to the polls in November to choose a new president, and miners will be keen to put their demands across.