Peru's security forces kill three Shining Path rebels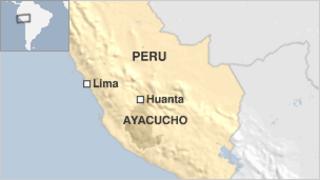 Three Shining Path rebels, including a top leader, have been killed by the security forces in Peru, according to the interior minister.
Wilfredo Pedraza said the guerrillas were shot dead in the country's south.
Among those killed is Alejandro Borda Casafranca, better known as Comrade Alipio, accused of being the number two in the Maoist rebel movement.
The Shining Path was largely defeated in the 1990s, but remnants continue to be active in parts of Peru.
Drug link
The clash happened overnight near Huanta in the Ayacucho region, where most of Peru's coca is grown.
The security forces say the Maoist group has allied itself with drug traffickers and now finances itself by growing and smuggling coca, the raw ingredient for cocaine.
Much of the illegal drug is produced in the Ene-Apurimac valley in southern Peru - known as VRAE - a stronghold of the Shining Path.
President Ollanta Humala has made bringing peace to the VRAE one of his top priorities since coming to office in July 2011.
One of the original leaders of the Shining Path, Comrade Artemio, was sentenced to life in prison in June.
Inspired by Maoism, the rebels tried to lead a "People's War" to overthrow what they called "bourgeois democracy" and establish a communist state.
They posed a serious threat to the Peruvian state in the 1980s but their numbers have since dwindled, most of their leaders have been captured and their territory has been reduced to small areas in the VRAE.