Ecuador soldier killed in clashes on Colombian border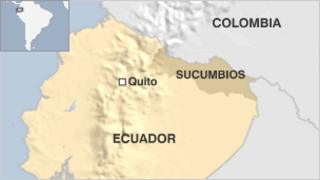 One army officer from Ecuador has died and a soldier has been injured in clashes with an armed group near the Colombian border.
Five Colombian rebels also died in the fighting.
Local media said it was likely that the rebels mistook the Ecuadorean soldiers for a Colombian army patrol and attacked them.
The gunmen are believed to be from Colombia's largest guerrilla movement, the Farc.
"We are outraged", said Ecuador's Foreign Minister, Ricardo Patino. "The Colombian government must reinforce the border to prevent illegal armed groups from entering our country."
The minister also warned Colombian rebels that Ecuador would be relentless in the defence of its territory.
For his part, the head of Ecuador's armed forces, General Leonardo Barreiro, said the soldiers had been on patrol in the region of Sucumbios when they surrounded the rebels.
"They asked them to surrender on the banks of the San Miguel river, but they responded with fire," he told reporters.
General Barreiro said another group of rebels on the Colombian side of the river attacked the Ecuadorean troops with rifle-launched grenades and sharpshooters.
Several armed groups, including leftist guerrillas, right-wing paramilitaries and criminal gangs, operate along the Colombian border with Ecuador.
In 2008, Colombian security forces crossed into the same region of Ecuador and killed a top FARC commander, Raul Reyes, in one of several jungle camps that the rebels operated just across the border.