Brazil pet monkey confiscated after decades with family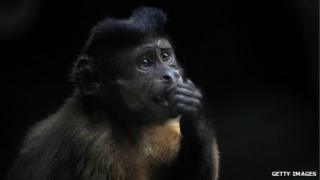 Thousands of people in Brazil have signed online petitions demanding the return of a pet monkey taken away by environmental police after living for nearly 40 years with a family.
The capuchin monkey, known as Chico, was taken to a nature reserve.
Authorities in the city of Sao Carlos said it was illegal to keep wild native animals at home in Brazil.
However, Chico's 71-year-old former owner, Elizete Farias Carmona, said she had treated him "like a son".
"They have taken a son away from his mother. But I believe God will allow me to see my Chico again," Mrs Carmona told the newspaper, O Globo.
Chico had his own bed and was fed with milk, fruits and his favourite Brazilian dishes, she said.
Mrs Carmona said she had been given the animal in 1976 by a family friend who worked as a lorry driver.
"I had no idea I was not allowed to keep it," she said.
'No native animals'
The authorities said they had responded to an anonymous call about Chico.
"We received advice that an animal was being kept captive in that house. We went for an inspection in March and found the animal there," explained Lt Leandro Jose Oliveira, from Sao Paulo state environmental police.
"The animal had been illegally captured. Mrs Carmona was given a provisional licence to keep the monkey until we found a suitable place for it, which has happened now," he said.
The monkey was taken to a nature reserve in the city of Assis, some 300km (190 miles) away.
One of Mrs Carmona's sons, Ernani Furlan, told the BBC the family feared for Chico's health in its new home.
"He drank milk first thing in the morning and before going to bed. He loved carrots and ate them throughout the day. Will he be getting the same treatment over there?" he asked.
"We believe he is not eating over there."
Mr Furlan said the animal was kept in chains in the house to avoid him climbing up lamp posts and being electrocuted.
"He would not escape, but we feared something would happen to him. We are all missing him so much. He came to us as a baby and my mother was like a mother to him."
Two petitions urging the return of the animal to the Carmona family have been signed by more than 4,000 people, according to O Globo's G1 website.
Campaigners say Brazilian law is flawed, as it allows wild animals from other parts of the world, such as tigers, lions and many types of birds, to be kept at home.
"We are just following the legislation. Exotic animals are allowed if they are not treated with cruelty. Wild native animals, from Brazilian territory, cannot be kept as pets," said Lt Oliveira.