Chile judge drops inquiry into Pinochet's millions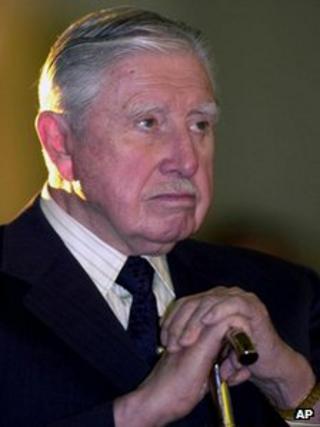 A Chilean judge has ended an inquiry into hundreds of overseas bank accounts belonging to Augusto Pinochet.
Judge Manuel Valderrama said the nine-year probe had failed to establish the origin of $18m (£12m) of his fortune.
And the probe found no evidence to support claims that Pinochet's relatives helped the former dictator hide the cash, which was said to be proceeds from fraud and arms deals.
Pinochet died in 2006 without facing trial over rights abuse claims.
Thousands of left-wing activists and other political opponents were killed, disappeared or jailed during his 1973-1990 rule.
'Amounted to nothing'
Judge Valderrama's announcement reaffirmed the court's decision in 2007 to drop charges against Pinochet's family.
Six of the general's aides, who were charged in the course of the inquiry, are still expected to face trial.
The judge stressed that his decision to end the inquiry could be appealed by either side.
Pinochet's grandson said he was satisfied that the inquiry had cleared his family, but told AFP news agency the stain on his name "will be very difficult to clean".
"They talked of arms trafficking, of gold ingots, and in the end it amounted to nothing," said Rodrigo Garcia Pinochet.
However, lawyers for the claimants said the inquiry had left many issues unclear.
"We will never know the reality of Pinochet's illicit enrichment," said lawyer Carmen Hertz.
"He embezzled public funds and funds reserved for the presidency and that was shown by the judicial investigation."
Allegations of corruption emerged in 2004 after a US Senate investigation found hundreds of bank accounts linked to Pinochet and his relatives at Riggs Bank, a defunct Washington DC institution.
Chilean prosecutors opened an inquiry into Pinochet for tax evasion, fraud and embezzlement and ordered the University of Chile to carry out an audit of the general's fortune.
The audit concluded that it amounted to $21.3m, and that the origin of $17.9m of it was unknown.
Despite numerous allegations of rights abuses, millions of Chileans still supported Pinochet at that time, regarding him as a sound economic manager who fostered prosperity.
The corruption allegations seriously tarnished his image.
His family has always denied corruption, saying the money was the product of prudent investments.