Honduras declares state of emergency over dengue fever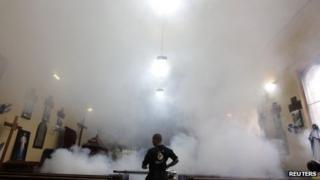 Honduras has declared a state of emergency after an outbreak of dengue fever that has killed 16 people so far this year.
More than 12,000 people have been diagnosed with the disease, which causes high fever and joint pains.
Officials say that in more than 1,800 cases there is a risk of internal bleeding and death.
The government has promised to step up its fight against the mosquitoes that spread dengue fever.
Health Minister Salvador Pineda said more than half of Honduras' municipalities have registered cases of the viral infection this year.
The worst outbreak of dengue in Honduras was in 2010, when 83 people died.
According to the World Health Organisation (WHO), the incidence of dengue has increased 30-fold over the past 50 years.
The WHO says there are an estimated 50 million to 100 million infections annually, with more than 100 countries affected, putting almost half the world's population at risk.