Brazil policemen tried over Carandiru jail massacre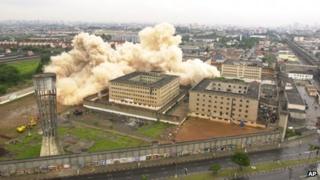 The trial has begun in Brazil of 26 policemen accused of killing dozens of inmates during a prison riot in Sao Paulo in 1992.
Witnesses say riot police began shooting at random as they stormed the Carandiru prison.
In half-an-hour, 111 prisoners were killed in what became known as the Carandiru massacre.
The policemen currently facing trial are accused of killing 73 prisoners on the second floor of the jail.
A verdict is expected by Friday or Saturday.
The trial is being held in phases, dealing in turn with the victims on each floor of the prison building.
Twenty-three policemen were sentenced in April to 156 years in jail over the first floor deaths.
Dozens more are expected to face trial in the coming months.
'People killed randomly'
The policemen say they acted in self-defence, having to quell a rebellion inside a notorious jail where prisoners were armed.
Human rights groups point out that there were no police casualties during the operation.
"We never thought they would come in and kill people randomly, as not everyone had joined the rebellion," former prisoner Jacy de Oliveira told BBC Brasil's Luis Kawaguti.
"The policemen began shooting everyone; if you looked a policeman in the eyes, you were dead," he said.
In 2001, Col Ubiratan Guimaraes, who led the police operation to regain control in Carandiru, was convicted of using excessive force. But he was acquitted on appeal in 2006.
The Carandiru prison was closed in 2002 after a series of riots across Sao Paulo state.
The building, which was located next to one of the underground stations of Brazil's largest city, was eventually demolished.
It was once one of Latin America's biggest jails, housing 10,000 inmates.