Excitement in Brazil as Pope arrives for World Youth Day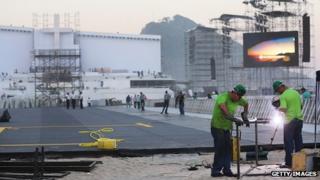 At one end of Rio's famous Copacabana beach, you would be forgiven for thinking that one of the world's major rock acts was getting ready to perform.
A huge stage has been built on the beach that would certainly do justice to the likes of Mick Jagger, U2 or Coldplay.
And in many ways the "act" who will appear here at least twice over the course of the week is indeed a global "rock star", certainly in the eyes of the two million young people who have travelled to Rio to be in his presence.
It is not how Pope Francis sees himself.
Since being elected Pope, the first Latin American to hold the post, he has been "like a breath of fresh air" in the Vatican, a line repeated to me by more than one observer this week.
'Electrifying'
He is no radical revolutionary and still holds firm on traditional Catholic doctrinal issues such as abortion, women in the priesthood and gay marriage.
But in terms of style and approach, Francis has electrified and invigorated the Church.
In the shadow of the huge stage and some of the 26 giant video screens installed all the way down Copacabana beach, I spoke to Father Thomas Rosica of Salt and Light Catholic TV in Canada.
Fr Rosica is also a veteran Vatican insider who knows the new Pope well.
"This is not the Catholic Olympics or the Catholic Woodstock, although it has elements of both. It has monumental significance for the young people here but also for Pope Francis," he says.
"He (Pope Francis) started off right away, wanting a poor Church, a simple Church, back to gospel basics.
"There are some problems that needed to be dealt with and he has addressed them head on. He is also comfortable in his own skin: he's not letting anyone dictate to him what has to be done," Fr Rosica explains.
Golden opportunity
The Pope's journey to Brazil is the focal point of World Youth Day, a week-long series of events to celebrate the faith.
It is his first overseas visit as Pope and he comes to a region which may be a Catholic heartland but, even here, the troubles that have afflicted the Church in recent years and the progress of Protestant evangelical churches have had a destabilising impact.
This is a golden opportunity to press the restart button. The Pope has a willing audience, already impressed by his approach and energy.
In the Tijuca National Forest, on the edge of Rio, we joined a group of young Jesuit pilgrims trekking up to the iconic Christ the Redeemer statue overlooking the city.
Their Pope is, for the first time, also a Jesuit - a traditionally simple Catholic order whose members are meant to avoid high office.
Pope Francis's message of simplicity, of the need for the Church to reconnect with its roots, is one that resonates well with these pilgrims.
"My work is to be a better person and I think the Catholic Church and the Jesuits help me be like that. They pray in a different way; we pray in the forest, in the mountains; it is a different way of finding God and prayer," says Blanche, a young pilgrim who has made the long journey from her home in France.
Hannah, from the US, says the Church was in danger of losing touch with young people.
Taking a break during the steep climb to the summit, she told me: "I think that the hierarchy and sticking to tradition relentlessly does alienate a lot of young people from the Church. So the Pope's message of simplicity, of sharing the foundation of faith rather than worrying about the hierarchy and all the things that alienate the youth, I think it is going to do worlds of good."
Brazil is an overwhelmingly pious country, where there is no shame or stigma in declaring one's faith.
Corruption gripe
Among the thousands of young Brazilians enthusiastically welcoming the Pope and working as a volunteer for World Youth Day is Livia Valpassos.
We caught up with her during last minute rehearsals with her choral group, which will welcome the Pope on his arrival in Rio.
But three weeks ago, she was out on the streets of Rio, protesting along with thousands of other young Brazilian against government waste and corruption.
Ms Valpassos sees no contradiction between her role as a protester and as a pilgrim.
She even thinks the Pope would have supported the mass protests in Brazil, as diverse and as directionless as they sometimes were.
"In my opinion, I think he understands that the people want a better life for everyone. We want the end of corruption," she tells me during a break between her rather vigorous vocal exercises.
"I think he is in favour of the protests but against the violence - we're all against violence," she concludes.
This is above all a festival, a celebration of the Catholic faith, a jamboree for young people in particular.
It would be highly surprising if the Pope were to delve into local or Vatican politics during this visit.
But every word he utters, every move he makes will be closely watched and scrutinised to see if Pope Francis really is going to be the radical Pope that many people expect.