Chile Labour Minister Evelyn Matthei to run for president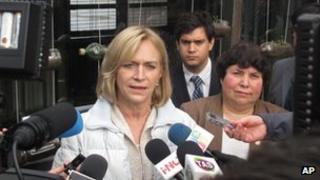 Chile's governing conservative alliance has appointed Labour Minister Evelyn Matthei to run for president in November.
She replaces Pablo Longueira, who resigned on Wednesday saying he was suffering from depression.
Evelyn Matthei is an experienced politician known for her outspoken rhetoric.
She will run against former left-wing Chilean President Michelle Bachelet, who is leading in the opinion polls.
"We have four months. It is very little time, which means we need to begin working now," said Ms Matthei.
"These are difficult times," said Patricio Melero, president of Ms Matthei's UDI (Independent Democratic Union) party.
But he said his party had made the right choice: "We think Matthei is a winning candidate."
Ms Matthei has served as labour minister in President Sebastian Pinera's government since 2011.
Michelle Bachelet, a Socialist Party member, served as president from 2006 to 2010.
Her approval rates were high, but the Chilean constitution bars presidents from running for successive terms.
Military background
Evelyn Matthei is the daughter of one of the members of the military junta that ruled the country for 17 years.
Her opponent's father, Alberto Bachelet, was also a general, but stayed loyal to President Salvador Allende, who was killed during the 1973 military coup.
He died in jail months after the coup.
Both candidates lived in the same air base of Quintero during their childhood and their parents became good friends, despite their distant political views, says the BBC's Ignacio de los Reyes.
"We have two women running for president. They are both the daughters of Armed Force generals, they are both successful professionals, they are both experienced," said Mr Melero.
"But there is a difference in the project they want for the country."
Ms Bachelet has vowed to address Chile's social inequality and to raise taxes in order to give free university education for all.
Ms Matthei has not as yet unveiled her programmed, but she backs Mr Pinera's economic policies, which have brought sustained growth to Chile.
The vote takes place on 17 November. A runoff will be held on 15 December if neither candidate obtains more than 50% of the vote.