Colombia's Farc offers to release 'US veteran'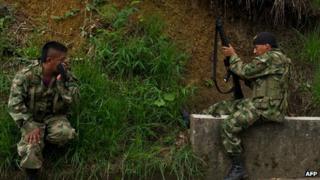 Colombia's Farc rebel group says it has captured a former US soldier and is willing to release him to prove its commitment to the peace process.
In a statement, the rebels named the man as Kevin Scott Sutay and said he had been taken on 20 June in El Retorno in the southern Guaviare Department.
The US has so far not commented on the claims.
Peace talks between the guerrillas and the Colombian government opened in November in the Cuban capital, Havana.
It is the fourth attempt at a negotiated peace deal since the beginning of the conflict in the early 1960s.
The Revolutionary Armed Forces of Colombia (Farc) cited Mr Sutay as saying he worked as an anti-mining and explosives specialist in the US Navy until March, having served in Afghanistan in 2010-11.
His passport identified him as having been born in New York City, said the group, adding that he had travelled through Mexico, Honduras, Costa Rica, Nicaragua and Panama before arriving in Colombia on 8 June.
The Farc statement said that for the American's release the group wanted a humanitarian mission consisting of former senator Piedad Cordoba and the International Committee of the Red Cross (ICRC).
"Despite the law that allows us to keep the soldier Kevin Scott as a prisoner of war, we have made a decision to release him as a gesture in keeping with the spirit of talks under way in Havana," the statement said.
It added that the capture showed "active participation in the field of North American military men and mercenaries in counter-insurgency operations under the guise of contractors".
The Farc are thought to have some 8,000 fighters, down from about 16,000 in 2001.
Hundreds of thousands of people have been killed since the conflict began with some three million more internally displaced by the fighting.
On Monday, the Farc's chief peace negotiator said the conflict was nearing its end.
Ivan Marquez, who is taking part in the talks in Cuba, called on left-wing parties and unions to join the effort to achieve peace.
The government wants to sign a peace accord by November.
But Mr Marquez warned against rushing into a settlement.