Brazil unrest: Rio governor Cabral denounces protesters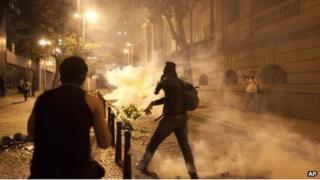 Rio's state governor Sergio Cabral has denounced protesters who clashed with police on Thursday, accusing them of deliberately carrying out vandalism.
Police used tear gas and arrested 46 people as clashes broke out in front of the state government palace and elsewhere in central Rio de Janeiro.
The violence came after a day of union-led strikes and rallies.
Thursday's events were smaller than last month's protests, which saw one million people take to the streets.
In a statement, Mr Cabral, who is already a hate figure for the Rio protesters, said acts of vandalism would not be tolerated.
"Groups who go to the streets with a clear objective to generate panic and destroy public and private property are just trying to take advantage of the recent demonstrations," he said.
He characterised last month's protesters as "legitimate young people eager to participate and improve democracy".
Blockades and closures
The police said one officer was injured in Thursday's clashes after being hit on the head by a stone.
Tens of thousands came out to support union-led demonstrations elsewhere in Brazil.
Major ports and motorways were blockaded, and schools and banks stayed closed.
The unions want improved working conditions and better public services.
The nationwide demonstrations in June were sparked by frustration over public transport fare increases.
The spontaneous street protests soon drew together disparate sections of society frustrated with alleged corruption and poor standards of education and healthcare.
President Dilma Rousseff responded by presenting a package of investment and reforms in public services.
Ms Rousseff also proposed a national plebiscite on political reform, but members of the Congress recently said it would be practically impossible to organise a public consultation on the issue before next year's election.