Brazil row over topless fan ban in Maracana stadium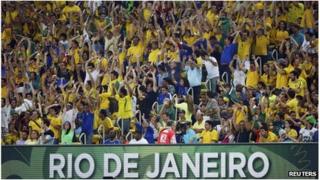 Controversial new plans which include a ban of shirtless and standing fans at Rio de Janeiro's Maracana stadium are causing outcry in Brazil.
Percussion instruments and flag poles traditionally used by organised fan groups could also be banned, says the stadium's new administration.
Critics are calling the plans "colonisation" and "gentrification" measures after the $450m modernisation.
Maracana has been renewed to host the final match of next year's World Cup.
The plans were announced by the president of the stadium's consortium, Joao Borba.
"We will talk to the clubs aiming a change of habits. I'm referring to bamboos [used as flag poles], bass drums, watching the matches standing. We do not even have room for the bamboos," Mr Borba told Rio's newspaper Extra.
'War against people'
The changes are meant to safeguard the comfort, security and accessibility of the fans, he explained.
But in a city where walking around wearing only shorts and flipflops is as common a men's outfit as suit and tie, many do not believe the changes can be implemented.
Fans used blogs and social media to vent their anger at the plan.
"In the new Maracana, icon of a football undergoing transformation, a war has been declared against people," blogger David Butter wrote under the title "The colonisation of Maracana".
Hours after the announcement, users on Twitter were largely critical of the plans.
Another blogger saw an attempt of gentrifying football behind the proposals.
"So, away from the people, with expensive tickets and surroundings that handpick the attendance, they decreed [new rules]," wrote Rica Perroni.
Maracana is expected to become once again the home ground of Rio de Janeiro's main football teams.
But so far, only current Brazilian league champions Fluminense have signed a 35-year contract with the consortium.
Botafogo, Vasco da Gama and Flamengo are expected to share it.