Colombia extradites drug lord Daniel Barrera to US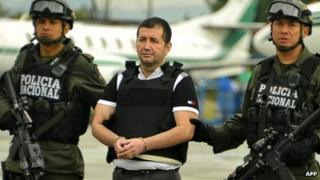 Colombia has extradited one of the country's most notorious drug lords to the US, officials have said.
Daniel Barrera, known as "El Loco" (The Madman), was caught last year in Venezuela, and sent back to Colombia.
While on the run he had cosmetic surgery and tried to burn his fingerprints to conceal his identity.
He was convicted on drugs charges in Colombia in 1990 but escaped. He is wanted in the US on charges of drug trafficking and money laundering.
At the height of his powers, he is believed to have controlled smuggling routes from Colombia through Venezuela to Central America and eventually the US.
He is thought to have transported hundreds of tonnes of cocaine and accrued a vast fortune over almost two decades.
Barrera, now 51, was arrested in Venezuela in September 2012 while making a call in a phone booth.
He only ever used public telephones to communicate with his family and allies, in an attempt to avoid his calls being traced.
The US had offered $5m (£3m) for information leading to his arrest and Colombia added an additional $2.7m to that reward.
Colombian national police chief Jose Roberto Leon said Tuesday's extradition showed other criminals they were better off turning themselves in.