Mexico confusion over 'unreliable' Baja California vote count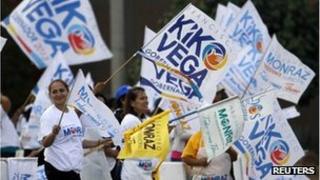 Mexican election officials have sparked confusion by announcing the result of a key local election, and later saying that their count was unreliable.
Both the opposition and the governing party had claimed victory in Sunday's vote in Baja California state.
The opposition, initially declared the winner, has threatened to withdraw co-operation with the federal government on a reform package agreed last year.
Officials have ordered a recount, to be finalised by the weekend.
Mexicans in 14 states out of 31 federal entities voted for regional assemblies and municipal governments, but the only governorship up for grabs was in Baja California.
The opposition National Action Party (PAN) took control of Baja California in 1989, and it has remained one of their most important power bases.
Electoral officials announced on Monday that 97% of the votes in Baja California had been counted, and that the PAN candidate was three percentage points ahead of the Institutional Revolutionary Party (PRI) candidate.
However, electoral council spokeswoman Helga Casanova said errors in the count meant the result "should not be considered reliable".
A recount would begin on Wednesday and will last until the weekend, she said.
PAN officials have suggested they could pull out of the so-called Pact for Mexico if the election issues are not sorted out.
The pact was signed last December, and contains agreements by the three main parties to work together on the main economic and security reforms.
The plan has become the centrepiece of President Enrique Pena Nieto's administration.
He urged all parties to abide by the result and said the elections underlined "the strength and validity of [Mexico's] democracy, but also makes clear there are areas of opportunity to perfect the system".
The run-up to the elections was plagued by violence, with several candidates murdered and others pulling out for fear of being targeted.
The aftermath has seen widespread confusion, with rival parties accusing each other of dirty tricks throughout the country.