Mexico unveils stone-age etchings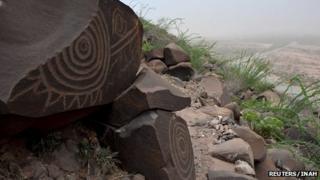 Archaeologists in Mexico have catalogued thousands of etchings carved into stones that they believe were made by hunter-gatherers 6,000 years ago.
The carvings, known as petroglyphs, mostly consist of wavy lines and concentric circles, with some images representing deer tracks.
Some 8,000 images were found at the site in Narigua in northern Mexico.
Experts say the etchings may be part of hunter-gatherer initiation rites, or representations of stars.
The National Institute of Anthropology and History (INAH) says it is now preparing to allow tourists into the site, some 100km (60 miles) west of the city of Monterrey.
INAH archaeologist Gerardo Rivas said there was evidence of hunter-gatherer tribes having lived in the area.
He said many of their settlements were temporary, but evidence of cooking implements and stoves still remained.
He said the petroglyphs may reveal clues as to the level of sophistication of the tribes, and the kinds of tools they were able to manufacture.