Popocatepetl volcano causes more Mexico flight chaos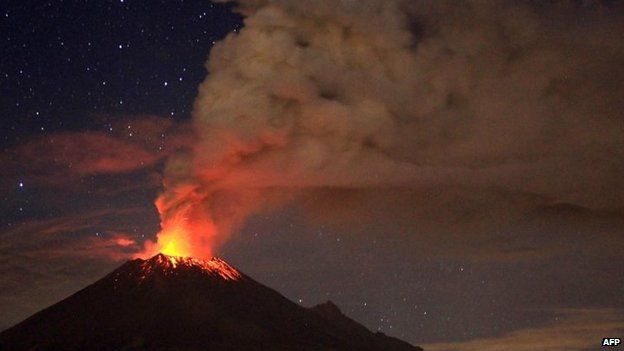 US airlines have cancelled flights into and out of Mexico City for a second day over fears that ash from a rumbling volcano could affect their planes.
Delta and United Airlines were among the companies that stopped at least a dozen flights on Friday.
On Thursday, more than 40 flights were cancelled, leaving hundreds of passengers stranded.
Popocatepetl volcano has been rumbling all year, and began spewing ash and steam earlier in the week.
Airport authorities insisted there was no danger.
An unnamed airport official told the AFP news agency: "There is a very thin presence of ash, which does not harm operations or affect equipment."
But Jorge Andres Gomez, a spokesman for the airport, said any change in the wind or intensity of the volcano would complicate the situation.
US Airways, Delta, United, American and Alaska Airlines all cancelled flights on Thursday.
The routes affected by the cancellations were flights to Houston, Dallas, Denver, Phoenix, Chicago and Los Angeles.
American said in a statement that it had taken the action as a precaution.
"We are closely monitoring the situation in Mexico City as volcanic ash continues to be emitted from Popocatepetl," said American Airlines spokesman Matt Miller.
Mexican airlines continued to fly into the airport as scheduled.
Most operations were getting back to normal later on Friday, officials said.
The authorities established an 11-km (seven-mile) no-go zone around the volcano, which lies 70km (40 miles) south-east of the airport.
Popocatepetl, which is 5,452m (17,900ft) high, has intensified in activity since May, and the alert level is currently set one notch below evacuation level.
Mexico's National Disaster Prevention Centre reported tremors and columns of ash and vapour at Popocatepetl on Friday.
It advised people living around the volcano to take precautions such as using masks, covering water supplies and staying indoors.